Many Singaporeans are familiar with eating out; after all, we're one of the finest food cities in the world. You may also be aware of the issues of overindulging in all that delicious food, especially our popular hawker fare.
Too much sodium, too much unhealthy oil, too much sugar, not enough vegetables… solely surviving on food from restaurants and eateries can make one's diet imbalanced and harmful to health.
Oh, and not to mention, it causes you to get flabby and pudgy.
Thankfully, healthy restaurants and eateries are popping up left and right in an already vibrant food scene. In between meals at the hawker centre and a family Chinese restaurant, one can easily enjoy a hearty and healthy meal at one of these healthy food establishments.
In this series, we look at some of the players in the healthy food game, and discuss what exactly makes their food healthy.
---
Most Singaporeans may be familiar with bibimbap, a very popular Korean dish that contains a mix of rice, protein, lots of veggies, and then topped with gochujang (a sweet and spicy chilli paste).
DoSiRak, which means lunchbox in Korean, has given a playful twist to the traditional bibimbap. Forget what your parents taught you about not "playing with your food" — at DoSiRak, instead of mixing the ingredients with your fork and spoon, you shake them all up in an ice cream tub!
It's not all just fun and games too, as DoSiRak places heavy emphasis on creating a healthy lunch bowl for their customers.
"Upon returning to Singapore after our education, we realized that eating out in Singapore meant that most food contained way too much MSG, refined sugars and very questionable oil (very cheap palm oil, bad for health and environment). Frustrated by that, we referenced the traditional recipes from our Korean grandparents and employed modern cooking techniques for DoSiRak. That resulted in a high quality, slow cooked, convenient, and a tasty balanced meal without MSG, refined sugar, preservatives, oil."

-Edward, owner of DoSiRak
What makes DoSiRak healthy?
Healthier preparation methods
DoSiRak put a lot of thought into the preparation of their food. On top of making sure that their food is healthy and tasty, all their lunch bowls are designed to contain fewer than 500 calories. To achieve that, they even weigh every bowl of rice to 140g to make sure that the numbers are right.
Meat: DoSiRak uses lean cuts of meat that are cooked using the sous-vide method, which helps to retain nutrients and flavor in the ingredients. This cooking method makes the meats really tender too.
Vegetables:  All the veggies are either lightly blanched or served raw to limit the loss of nutrients. They also help to add a nice crunchy texture to the bowls.
Minimal oil and seasonings used: Just a little bit of sesame oil and canola oil are used, and ingredients are also lightly seasoned to bring out the natural flavors of the fresh ingredients.
"In Korean cooking, we traditionally use corn syrup (because of economic reasons) which is worse than refined white sugar, as it cannot be broken down easily. Replacing refined sugar was very simple, we primarily use natural sweeteners such as apple and pear juice in our sauces and marinates. However for MSG, we created an all natural umami bomb mixture. This umami bomb with a stingy portion of Soy Sauce allowed us to substitute salt and MSG."

-Edward, owner of DoSiRak
Well-balanced and flexible menu options
Every DoSiRak comes with 1 base (mainly carbohydrates, korean white rice is the default) + 1 protein + 5 vegetables. This makes for a pretty well-balanced meal, which is great especially considering it's so hard to find dishes that come with this much veggies when eating out.
The menu is customizable too, allowing you to have a meal that suits your needs. Here are some of our menu ordering tips:
Want something more satiating that can keep you full for a longer period of time? Swap white with brown rice. You can also add on more protein to your meal.
Want a lighter meal? You can choose the red cabbage or cauliflower rice as your base instead of the default white rice.
They also mentioned that if you don't want a base, DoSiRak allows you to choose 7 veggies instead of the usual 5 at the same price!
Our DoSiRak Experience
1. Choose your DoSiRak
They have 10 pre-customized options if you're lazy to build your own. They have a total of 6 bases, around 9 choices of protein and 20 choices of veggies — plenty of variety.
2. Add in the special sauce that's made using a family recipe.
The sauce is pretty good, but don't be tempted to add too much of it. The ingredients are already pretty tasty on their own.
3. Shake everything up!
DoSiRak makes us work for our lunch! Or you can just mix it up with your fork and spoon like boring adults, but where's the fun in that?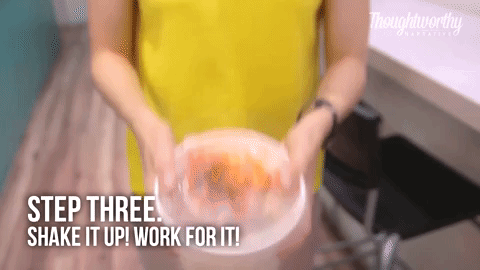 Is it tasty?
맛있어요 (Mah Sit Sso Yo! It's Delicious!)  Glo and I shared the smoked duck and cured salmon bowl and they did not disappoint.

DoSiRak is not just playful, tasty, or healthy. What we also like about DoSiRak is that unlike many healthy food places, their bowls are really affordable with prices as low as $7.90 nett. Perfect for those of us who are both health conscious and budget conscious.
They're currently situated at China Square Central, but we were told that they'll be shifting to Suntec some time in 2018. So make sure to try it out before they move, if you're working in the Chinatown area!
---
DoSiRak
Address: 18 Cross Street, China Square Central, #01-02 (Nearest MRT: Telok Ayer)
Opening Hours: Mondays to Fridays 11.30am – 6.00pm. Saturdays 11.30am – 3.30pm Closed on Sundays.
Website: http://www.dosirak.com.sg/
Facebook: http://www.facebook.com/DosirakSG/